Recycle Plus / Bottle Depot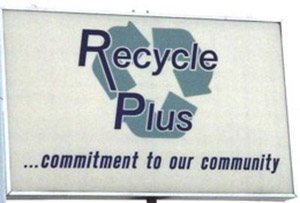 Recycle Plus operates a regional recycling program based out of Grande Prairie, currently serving 58 communities in an area exceeding 200,000 square kilometers. In fact it serves the largest regional geographical area in the world using an igloo type drop off depot system. Recycle Plus provides services to communities with populations as small as 250 to a municipality with a population as large as 45,000. This program secures five-year contracts with the individual communities in order to achieve long term sustainability. The program has seen continuous growth in both the numbers of communities it serves and the material diverted from landfills in its 11 years of operation. Recycle Plus employs on average throughout the year about 38 employees and 5 of which have developmental disabilities.
Project History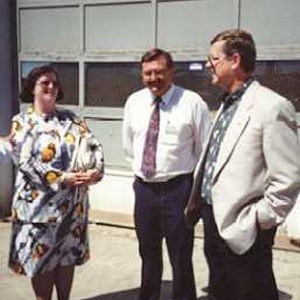 Recycle Plus is owned and operated by the Grande Prairie and District Association for the Mentally Handicapped. It started out of the Grande Prairie Bottle Depot in 1986 in an attempt to reduce landfill expenses by bailing and selling all the incoming cardboard rather than what back then was the norm to just send it all to the landfill. Within the next couple of years the program expanded to collect newspaper from the citizens of Grande Prairie and cardboard from commercial business.
In the early years, Recycle Plus employees had to place all the materials by hand into a small vertical baler. Since newspaper has to be crumpled in order to make a stable bale; I can remember crumpling up each newspaper by hand before feeding the little baler that made 150lb bales at the time. The baler that is used today has an automatic paper fluffer and produces bales around the 1,500kg or 3,300lb mark.
The next natural step was to offer a full scale recycling program to Grande Prairie and the surrounding region. Although the majority of the communities served are in northwestern Alberta, service also extends to northeastern British Columbia.
Tangible Environmental Benefits
In the initial month of the program, approximately 30 MT of material flowed through the plant, now the Materials Recycling Facility (MRF) is averaging 900 MT on a monthly basis. Over the past eleven-years, Recycle Plus has diverted over 40,000 MT from regional landfills. Spread over a region the size that it serves this is an amazing accomplishment.
Intangible Environmental Benefits
Every school that resides in the communities signed on the regional program are eligible to have a recycling depot on their school property with no service fees. Recycling contests with first prize being a color printer and second prize a scanner have been held between the schools in order to promote recycling throughout the educational system. Recycle Plus views these practices as an opportunity to aid the schools in establishing recycling habits in children that will not only have an immediate effect on the rest of the family, but will also stay with them as they grow into adulthood and have families of their own.
Several business such as Weyerhaeuser, CANFOR, TELUS, among others, have successfully set up internal recycling programs in the region using Recycle Plus's infrastructure. There is also an office paper recycling program that has a participation rate of over 150 local small business offering weekly pick ups. In this region because of the success of this program, recycling is now available to everyone.
Successful commercial partnerships have been developed, such as the one with SuperPages where during their phonebook collection campaign; SuperPages donates $0.20 to recycling organizations for every phonebook collected. SuperPages had an idea that would get the schools involved by using this campaign as a fund raiser for schools, the only catch was that Recycle Plus would need to wave the $0.20 per phonebook for every book the schools collected and still be willing to process the books. Recycle Plus immediately said yes being very excited about the idea of getting schools involved in this project. The immediate result was a doubling of the phonebooks recycled and schools were able to use the money for various projects such as upgrading playground equipment.
We have also found that once recycling habits have been established in the general public, people begin to find other ways to reduce their waste. Many residents are now backyard composting using literature as a guide handed out at the manned Eco-Center operated by Aquatera Utilities.
Other Meritorious Considerations
Recycle Plus has been a low profile player in the industry as the focus has been both quantity and quality and has built itself up to a very large successful organization. This not-for-profit organization has been recognized by publications in the US as serving the largest geographical area in the world and has also seen some interest by the Guinness Book of World Records. Recycle Plus was the recipient of the Emerald Award in 2001 for its quality recycling program.
Keys to Success
The most critical factor to the success of any recycling program is convenience to the participants. This is why we endeavor to locate our recycling depot locations at larger retail/grocery stores like Wal-Mart who believe strongly in supporting and building stronger communities. Using this partnership model the retail/grocery store realizes a higher customer count in their store and the community experiences an increase in materials being diverted from their landfill.
List of Communities on Recycle Plus' Program
Anselmo
Bezanson
Chetwynd
Dawson Creek
Eaglesham
Fairview
Fort Assinibione
Girouxville
Grande Prairie
Grovedale
Hudson's Hope
Kinuso
Manning
Nampa
Reno
Sexsmith
St. Isidore
Taylor
Valhalla
Wembley
Beaverlodge
Blue Ridge
Clairmont
Debolt
Elmworth
Falher
Fort St. John
Goose Lake
Grimshaw
Harmon Valley
Hythe
LaGlace
Marie Renie
Peace River
Ridge Valley
Swan Hills
Sunset House
Teepee Creek
Valleyview
Berwyn
Charlie Lake
Crooked Creek
Donnelly
Enilda
Faust
Fox Creek
Grande Cache
Grouard
High Prairie
Joussard
Little Smokey
McLennan
Pouce Coupe
Rycroft
Spirit River
Tangent
Tumbler Ridge
Wanham