Lorne Grotkowski
Several years ago, while looking through a Grade 7 yearbook, Lorne Grotkowski came across an entry in which he stated that in the future he would like to work with the mentally handicapped. As it turns out, working with the disabled has indeed become a large part of Lorne's life. After graduation, he joined the Association as a part time residential worker and, over his eighteen and a half years with the organization, progressed to the position of supervisor of the 83rd Ave group home.
In 1983, the 83rd Ave neighbourhood was basically undeveloped and because it stood by itself in the area, the group home came to be named "the little duplex on the prairie." Lorne eventually became supervisor at 83rd Ave and spent most of his years in the program there and at the 96A St. location.
Lorne GrotkowskiWith no specific training in the field at the time, Lorne's first experience in the group home was "a really scary experience." He was unsure about many of the procedures and routines that needed to happen throughout that first day.
Lorne wasn't always in agreement with all of the prescribed programs for the clients. When he first started in the group homes, every individual in the home was on at least two programs.
There were some individuals who, no matter how many programs we threw at them, they were never, ever going to learn to tie their shoes. And yet, here we were, trying to teach them to tie their shoes. And it was an exercise in futility and frustration on our behalf, as I'm sure it was for them.
Lorne much preferred the Personal Planning programming, which was more goal oriented, rather than task specific. He trained in the Personal Planning process and really enjoyed the move to that way of working. The Association was always providing training and in-service and even had an in-house trainer at one time. Orientation for new staff eventually became the responsibility of the supervisors.
New staff coming into clients' lives was something that they were accustomed to. There was little emotion displayed by the clients when staff would have to move on to another job or group home, even though it must have been hard to accept in many situations. On average, there would be seven staff a year per group home and the changes were difficult for the staff as well.
Lorne recalls that he "learned a lesson in experience vs. education" when a new staff member, Kelly Benning, was hired to join the group home he was working at. Lorne had five years' experience and no formal training, while Kelly had the training but no practical experience. Each was thinking that the other didn't deserve to hold the same position and things between them were tentative for a week or so until they realized that they could learn a lot from each other.
But then it didn't take us long to figure out that we both had a lot to offer each other and we worked together as a team for many, many years. It was a rather symbiotic relationship. There were a lot of things she learned from me, from my experience and there were a lot of things I learned from her, from her education.
The residential workers used to take clients on vacations. There were few male workers in the Association, so Lorne was often included as the male staff worker for the trips.
As much as it was great working in Hawaii, I don't think people understand how burnt out you are after ten days of working around the clock. Even when you are sleeping, it is still a sleep-over shift and you don't have ten minutes to get away.
Taking care of the clients' medical needs was something that Lorne has always felt comfortable with. There was always the issue of discrepancy between the sexes and there were times when he had to bathe a female client. He knows that some people were not comfortable with that situation but did not have an issue with a male bathing a female client, for instance.
Clients experience a certain lack of privacy that cannot be avoided in some cases. They live in a fishbowl, but staff tries to ensure that they are treated with respect and dignity.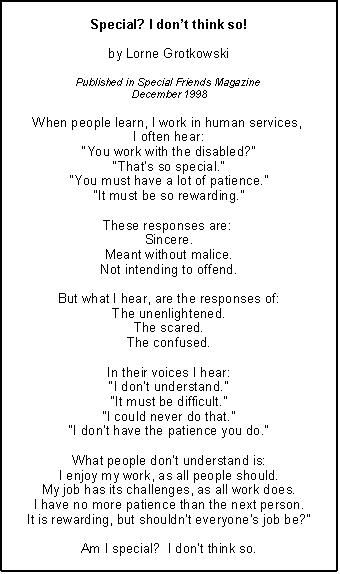 Due to the nature of the shift work and relationships that were developed in the group home work, Lorne found that after a while his whole life revolved around the Association. Clients and staff became "family" to a certain extent and that was a highlight as well as a downfall because it seemed there was no life outside the Association.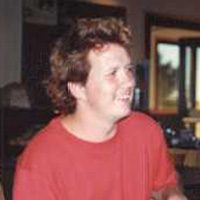 Lorne GrotkowskiLorne edited the Association's newsletters in the 1980s. They were a combination of news, highlights, editorials and, largely due to Lorne's influence, a generous helping of comedy. He also coordinated the Social Committee, which planned golf nights, baseball tournaments and car rallies for the Association staff.
Lorne now works in the Special Education department at Grande Prairie's Composite High School.