Michael Shaw
Through the years Mike Shaw has taken his turn out in the community, either at school or in the work world, but his parents, Glen and Linda, have discovered that his greatest contentment in life comes from the home environment. Mike's handicap makes it difficult for him to express himself but Glen and Linda say he does find a way to communicate, often using prompts. Mike can remember names of teachers and friends from the past and loves to be told about the times when he was little.
Mike has daily chores to do and does them without any problem as long as he is not asked to do anything more than what is his routine. One of his chores is to walk over and deliver the neighbour's paper every day. It is not his favourite job, but the Shaws keep him doing it for the activity it provides.
When Michael was three or four years old, Linda took him to see if there was early intervention available in the area. There wasn't really anything at the time (1968-69). The Peace School of Hope was operating, with Lorne McLeod as the Executive Director at the time. Mike was too young to be included then, as the Peace School was taking students who were eight or nine years old.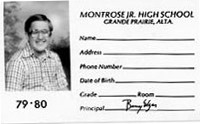 Mike eventually attended the Peace School Wing in Montrose School. Linda recalls that Mike hated school in general but didn't mind going to Montrose at first. One day Mike missed the bus at the end of the school day and wasn't home when Linda returned from work. He arrived moments later with his cheeks bright red and when Linda asked him where he was he told her, "I joggled home." She was amazed that he could find his way on his own.
Linda remembers being unhappy with the situation at the school at times. On days when she was volunteering, she wondered why the coffee breaks were so short. The teachers would be sure to be back in the hallway before the kids would return from recess because there would be chaos in the halls if they didn't. The hallways could be pretty rough at times, with running shoes flying, etc. and Linda thought it was a rough place for Mike to be. She wished he wasn't in the situation. "I guess I was overprotective," she says.
Mike worked at Swan Industries for a couple of years when he was nineteen or twenty years old. He prefers a quiet atmosphere, so the noisy shop environment did not suit him at all.
Mike's mother Linda served as President of the Association's Board of Directors in the 1980s. She is encouraged by the positive changes that have taken place in the organization on behalf of the handicapped through the decades. Respite care is one aspect of service that she would like to see expanded.
The thing that I would like to see more of, if we were going to do any changes, is that there be more respite care offered. That's the thing that I find. We don't have enough respite care offered. But as far as for Mike, as long as we're alive, I guess he'll be with us"
Mike is an individual like you and I are. He has his wants and needs and a lot of his needs are fulfilled on a daily basis. He's happy, basically. What more could you ask for?